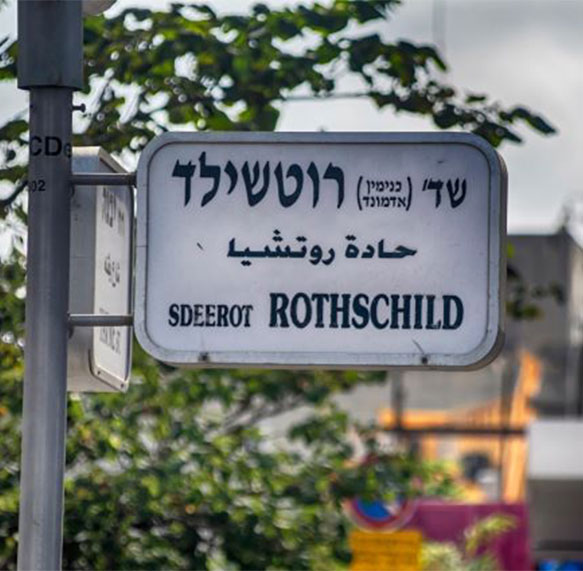 OUR PASSION.YOUR HOME
At DOMESTIC, our guiding principle is - 'the person at the center'. For us, selling an apartment is not "another deal" but a transaction involves people, feelings, and complexities. We would love to stand by you and offer our many years of experience based on our involvement in the successful sale of dozens of apartments.
Selling an apartment in Tel Aviv can be a stressful experience, but it doesn't have to be. There are many dynamic steps in selling your property, from proper pricing, through legal status and making sure you have a team of professionals ready to assist so that nothing falls through the cracks.
Our seller's guide provides the information you need to ensure that your apartment sale process is efficient and rewarding.
WHAT DETERMINES PRICE
Location The single greatest factor in determining the price is location.

Competition Buyers will compare and interpret value based on other available properties.

Timing Market conditions change and cannot be manipulated. An effective marketing plan and pricing strategy must take these conditions into account.

Condition Property condition directly affects the price and speed of the sale.

Marketplace In the end, it's the marketplace that will determine the price. At DOMESTIC, we use our vast knowledge of, experience in, and data on the Tel Aviv market to calculate where we think the property will trade, but ultimately, the market dictates the actual price.
COSTS THAT EXPECTED IN SELLING YOUR PROPERTY
Agent's fee

Lawyer fee

Appreciation Tax

A tax imposed by the State on the capital gain realized as a result of the difference between the value of the property on the date of purchase and its value on the day of sale. To know whether and how much praise tax you should pay, you should consult a professional (attorney, tax consultant)

Improvement Tax

Unless otherwise indicated, the seller usually pays it. It is strongly recommended that you go to the Department of Improvement in Tel Aviv Municipality to find out whether there is a liability to avoid unpleasant surprises.

Mortgage elimination

Eliminating mortgage sometimes involves fines that the lender imposes on the mortgage lenders. It is advisable to check in advance with the lender what the costs are.
SELLING APARTMENT IN TEL AVIV – MAXIMIZING YOUR PROPERTY VALUE
Often, simple cosmetic changes can be made with minimal time and expense to increase the value of your property. Since buyers compare competing properties, we suggest a few practical tips to make yours stand out.
Eliminate clutter
Your property will feel larger and brighter, while allowing prospective buyers to explore it comfortably, envisioning it with their own personal touches.
Repair
If you think something is too much trouble to fix, chances are buyers will, too. Making repairs allows you to present your property in a better light and increase its value.
Clean
Presenting a clean home to a buyer shows them the home has been valued and cared for.
Renters
It is advisable and appropriate to consider the needs of your tenants and to agree with them in advance how and at what times potential buyers can be brought. Positive cooperation from tenants will facilitate and even promote the sale of your apartment.
Leave
Potential buyers are much more comfortable and will be more likely to discuss how they feel about a property if the seller is not at home during the showing.
PRICE AGREED, HANDS SHOOK, CAN YOU SAY MAZAL TOV...?
Buyers
Detailed clarification on the capabilities and sources of the buyers is highly necessary to ensure the closing of the transaction.
Time
Sometimes when buyers want to get the apartment doesn't match your schedules. A professional and experienced real estate consultant usually will find a creative solution to both parties' satisfaction.
Law and procedures
Finding a lawyer specializing in Tel Aviv real estate transactions who will be able to properly deal with legal issues that may arise during the transaction.
If you decide to sell your apartment in Tel Aviv, we at DOMESTIC will accompany and stand by you until your apartment is sold. For a consultation meeting call now or fill in the details and we will come back asap.