CITY CENTER
City Center  "Merkaz Ha'ir  is the area surrounding the municipality building and Rabin Square. It stretches from Arlosoroff in the north and Ibn Gvirol in the east, to Habima Theater and Bugrashov Street in the south. It is largely thanks to this neighborhood that Tel Aviv is considered dynamic and energetic.
The City Center houses several important cornerstones of Tel aviv's cultural life – The Helena Rubinstein Pavilion for Contemporary Art, Heichal Hatarbut (the Mann Auditorium), Habima Theater, and Beit Liessin Theater — and of its urban fabric — Rabin Square, Masaryk Square, and Dizengoff Circle, with its fountain/sculpture by Agam. The theater, the cinemas (Lev, Rav-Chen), and the many bars and cafés along Dizengoff (even in Dizengoff Center one can while away many leisure hours) definitely provide the neighborhood with an effervescent cultural life and nightlife.
The area also houses 233 of the "White City," "International Style" buildings from the 1930s which have been designated by UNESCO as a World Heritage Site. Within all this hustle and bustle there are also such quiet residential streets as Lieberman, Wiesel, Stand, Ruth, and Yael Hissin — with buildings no more than three or four stories high.
Other main streets in this area are Ben-Gurion Boulevard, Chen Boulevard, Gordon, Frishman, Hanevi'im, Reines, Shlomo Hamelech, Tchernichovsky, and Bialik.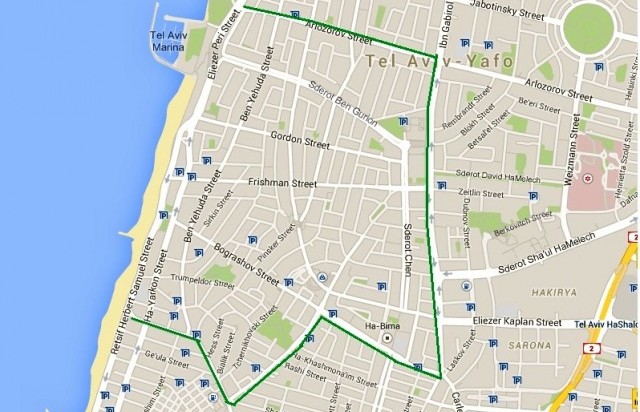 Google+