NEVE TZEDEK and the KRAMIM
Neve Ttzedek, established in 1887, was the first Jewish neighborhood constructed outside the walls of Jaffa. It is bounded by HaMered Street to the west, Herzl to the east, Yitzhak Elhanan to the north, and Eilat to the south. Thanks to its low-rise homes with red-tile roofs and brightly colored exteriors, Neve Tzedek is Tel Aviv's most picturesque neighborhood. No public transportation passes through it, and most of its streets are narrow and one-way, thus preserving the quiet.
Along the main street, Shabazi, there are cafés, restaurants, boutiques, and synagogues. The most prominent site in Neve Tzedek is undoubtedly the Suzanne Dellal Center for Dance and Theater, which was renovated and restored in the 1980s by the Dellal family and the Tel Aviv-Jaffa Municipality.
North of Neve Tzedek is the Kerem Yisrael neighborhood, bordered by Yitzhak Elhanan in the south, Kerem Hatemanim in the north, Nahalat Binyamin in the east, and Hakovshim in the west. The neighborhood contains 30 buildings slated for preservation, and, in recent years, there has been an increase in the pace of preservation, renovation, and new construction of residential buildings.
In contrast to Neve Tzedek, on most of the (small) lots here one may build up to six stories, and this affects the density of construction. Both private developers and the city are promoting two projects on the boundaries of the neighborhood that will affect it in the coming years:
• The plan to upgrade the Carmel market complex, including thorough renovation and infrastructure renewal of the market, which also includes the construction of underground parking, office buildings, residential buildings, and public buildings.
• The plan to turn Yitzhak Elhanan Street into a boulevard that will connect Rothschild Boulevard and the sea, thus completing the ring of Tel Aviv boulevards. The landscaped, pedestrian mall will be on the northern side of the street, and a commercial colonnade will run along its entire length (as on Ibn Gvirol Street).
North of Kerem Yisrael lies the Kerem Hatemanim neighborhood, which is in south-central Tel Aviv and is bounded by Allenby, Ge'ula, Hakovshim, and HaCarmel streets. Its first buildings were populated by Jews who came from Yemen. The neighborhood is characterized by low-rise construction, internal courtyards, row houses, and alleys that are too narrow to allow public transportation to pass through.
With its easy access to the Carmel Market and the sea, the neighborhood has become attractive to both Israelis and people from abroad. However, its offerings in important areas such as education and health services are still very limited.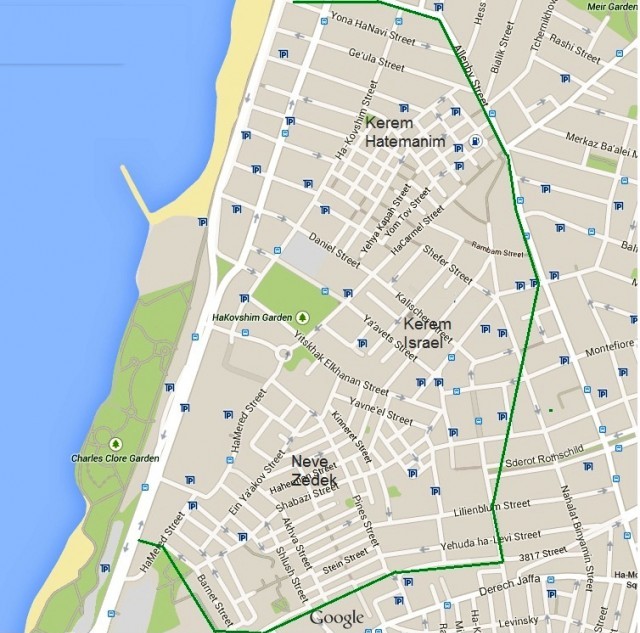 Google+